West Indies news
April 5, 2016
Board and players need to compromise - WICB president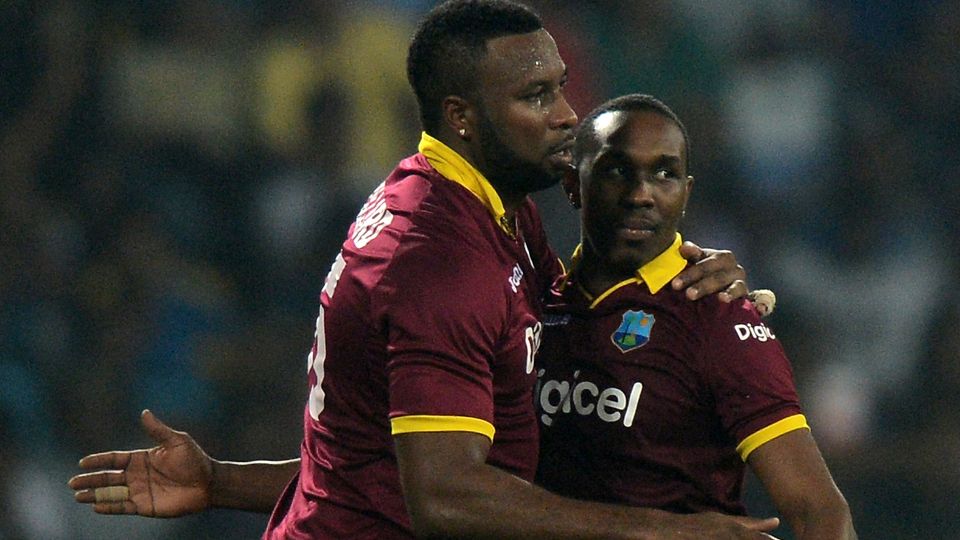 Play 01:26

WICB most unprofessional board - Bravo
West Indies Cricket Board (WICB) president Dave Cameron has said that both the board and players need to "compromise" and have discussions to resolve the longstanding feud that has existed between the two parties ever since he got elected in March 2013. Despite the deep distrust between the two parties, Cameron said that he shared a "good" relationship with players and has "gone out of his way" on several occasions to "reach out" to them.
The Indian tour boycott in October 2014, threat of pullouts over payment disputes ahead of numerous series and tournaments, differences among the board, selectors and the head coach are just some of the headlines that have persisted during Cameron's presidency which is into its second term after he was re-elected last March.
Cameron was at the Eden Gardens during the World Twenty20 final when West Indies captain Darren Sammy delivered a stirring speech after their stunning win against England on Sunday. Sammy had declared how "disappointed" he and his players were to not hear anything from the WICB till the minute they became the first team to win the World T20 crown twice. Cameron had responded by saying that he would meet the West Indies players for negotiations after the IPL.
The biggest point of contention is that the players have refused to sign the new Memorandum of Understanding (MoU) put together by the WICB under Cameron and the West Indies Players' Association (WIPA). The players say they stand to lose a lot of money and want to revert to the previous arrangement.
Recently, Sammy had said the players were unhappy with the remuneration offered by the WICB to participate in the World T20.  A sum of $27,600 for the entire tournament including the final was a "staggering reduction", he had said. He also failed to understand why the WICB could not "figure out" how much 25% of the participation fee for playing in the ICC tournaments would amount to.
Cameron said he was happy to explain to Sammy and the team how the remuneration had been worked out. "Even if I give them a million dollars they will still say it is not fair. One has to be reasonable," Cameron told ESPNcricinfo on March 30, on the eve of West Indies' semi, in a wide-ranging interview. "We need to compromise. We need to have a discussion. That is what I have been saying to them, 'Let us sit down and let me explain to you where we are at.' We have given up the two best months of our year for cricket - April and May. We are not playing any cricket because we have allowed them to come over to India and play in the IPL. Some of them are making $500,000, a million, a million and a half. Great. We have sacrificed that two months for you.
"We only have 52 weeks in a year. If you want to play Big Bash, Ram Slam and all those T20 tournaments, then we also need you to bring back the information and the experience to our players back home and also our sponsors who are sponsoring our tournaments who want to have our stars back home. You can't want to play everywhere, the WICB has to call on your services either domestic or international, but then you want the WICB to pay you a nice, big, fat retainer."
According to Sammy, West Indies are the best in the T20 format, a fact underlined by their second World T20 title, and hence he failed to understand why he and others who play only T20Is now were not given a contract. Cameron disagreed.
"Why would I retain you to play three-four matches a year? What are you doing for the WICB outside of playing two-three T20Is a year? We have to have some kind of consciousness about that," Cameron said. "Unfortunately, the truth is I have reached out to the players, I have reached out to them individually. I have reached them through Jason [Holder, West Indies Test captain]."
Cameron pointed out that players, especially the seniors, were not "forthcoming" whenever he tried to talk to them about finding a way out. "They haven't been forthcoming. It is interesting that Darren Sammy has these views and rightly so since it affects him personally," Cameron said. "But we are running the sport. We can't focus on any one player. And that is part of the mistakes we have been making for a very, very long time."
Interestingly, Cameron was in India when West Indies reached the knockouts. He was in Nagpur when West Indies lost to Afghanistan in their final group match and he was in Mumbai when they beat India. In fact, he was staying in a hotel adjacent to the team hotel. Yet, he did not visit the players. Asked if such a move could be perceived as a sign of being closed and arrogant, Cameron disagreed. "But I am available, I have told them that," he said. "I have told them directly. I have told them through the manager that I am available. They are next door in the Trident."
He then pointed out that he had gone out of his way on more than one occasion, including having dinner with the players on the 2014-15 South Africa tour, to reach out to the team. Incidentally, most of the senior players were not present at that dinner, a fact Cameron conceded.
In Mumbai, Cameron said he had "not met all of them", a move he called "deliberate" because he felt he would distract them. "They are staying next door. I haven't been around them too much. And that is very, very deliberate. That's very, very deliberate. I am staying next door, and not in the same hotel as well because sometimes players get a little nervous when the management is around them. They probably feel a little defensive. I don't want to feel like I am spying on them. No, man, the relationship is good. It is where it needs to be, which is I'm the president of the organisation. They are the stars and they know that the WICB is supporting them in winning these tournaments."
Cameron had earlier also dismissed the perception that if West Indies were to go and win the World T20, it would be despite the WICB. "Despite! Well, I don't know how you get 'despite'," he said. "So who is the team representing here (laughs)? So it can't be despite of. Winning the WT20 or being here in WT20 is because of what the WICB has done. The players here, where did they come from?"
The full interview with WICB president Dave Cameron will appear on Wednesday, April 6
Nagraj Gollapudi is an assistant editor at ESPNcricinfo
© ESPN Sports Media Ltd.